For more information, please "Like" our Facebook page at http://www.facebook.com/dragonriderproductions.
DRAGON RIDER PRODUCTIONS ANNOUNCES ITS NEXT PROJECT:
"THE MIRACLE MAN"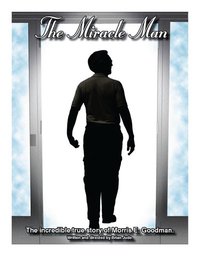 Morris Goodman was a successful insurance salesman. So successful, he bought himself his own airplane. On March 10, 1981, his during first solo flight in his new craft, the engine stopped, and he crashed the plane, crushing his spine, leaving him unable to walk, talk, swallow, breathe or move any part of his body except for his eyes. His doctors believed he would live a short, meaningless life, if he survived at all.
Morris had different plans...
What Morris had was his mind, and his faith that one day he would walk out on his own two feet, and make a full recovery, no matter what his doctors told him. Using the same step-by-step, goal-oriented approach he took in his career, Morris began to calculate the steps he needed to make toward recovery. He set a goal to be home by Christmas of that same year. He succeeded before Thanksgiving, just eight months after the accident...
If you have ever seen "The Secret," you'll know his amazing story. If you haven't, you can see a clip of it here: http://www.youtube.com/watch?v=bfKn92klPeU
For more information, go to http://miraclemanfilm.com. Please "Like" our Facebook page at http://www.facebook.com/miraclemanfilm.
MIRACLE MAN T-SHIRTS ARE NOW AVAILABLE FOR $25!

Here's what http://ScreenplayCoverage.com had to say about "The Miracle Man":
"This is one of the better screenplays I've run across lately."
"The fact that this part of the coverage isn't running into multiple pages is because I just don't have many notes to refer to! When a script's working, I don't take many notes…."
"Overall, the screenplay does well in all crucial departments and certainly works as a testament to the human spirit. Considering that the protagonist is flat on his back in a hospital bed for huge chunks of the narrative, it's impressive that the script is able to make this into consistently interesting drama."
"The concept is inspiring, heartwarming and heartfelt. The presentation is thoroughly professional. The themes evoked are some of the most essential to the human condition. The tone is a touch self-righteous, but manages to remain consistent and consistently engaging throughout."
"Solid script all around, with a lot going for it. It works as a character study and as a medical themed drama."
"This is great source material and you've done some fine work with it. With the proper revisions, this script has a better-than-average chance of achieving market viability."
NOW PLAYING!
THE LAST DAYS of FRANK WHYTE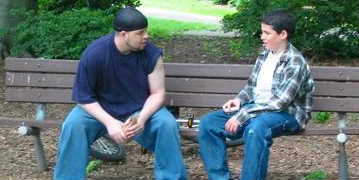 Franklin Correa, Aron Briskin
FRANK WHYTE (Franklin Correa) thinks he's on top of his game. He's operating a successful drug dealing business with his mentor BOOGIE (Chiko Mendez), and he has the admiration of a young runner, DONNY (Aron Briskin). Little does he realize a competitor, JULIO (Julian Altbuch) is moving in on the market…
Julian Altbuch
****************

CHECK OUT LIVE CONCERT ANT COMEDY VIDEOS BY
DIGITAL CAFE TOUR:
Produced under Digital Cafe Tour by Tom Walker and Brian Jude,
Directed by Brian Jude
****************
On Sale Now at CD Baby and iTunes!!!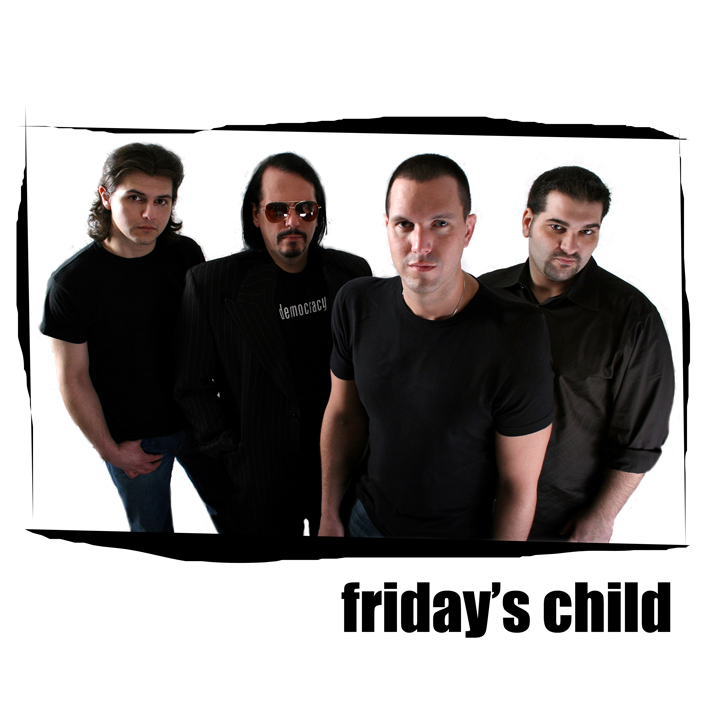 Friday's Child Enhanced CD:
DEMOCRACY - LIVE AT LUNA STAGE
Including the live music video of "The Chasing Game,"
directed by Brian Jude.
CLICK HERE TO BUY NOW AT CD BABY!
CLICK HERE TO DOWNLOAD FROM iTUNES!
****************
Now Playing :
UNDER the RAVEN'S WING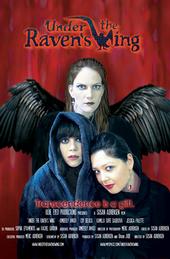 Under the Raven's Wing is a Blue Eyed Productions film, written and directed by Susan Adriensen, produced by Susan Adriensen and Brian Jude, co-producers Sophia Eptamenitis and Rachel Gordon and associate producer Kimberly Amato.
This "psuedo-documentary" is about a young filmmaker who documents the murder confessions of three young women who seduce him into their strange world of spiritual "dimensions" and "transcendence." The ring leader, Raven, holds everyone in her psychological grip, until her secret is exposed and a power struggle ensues. The film stars Coy DeLuca as "The Director," Kimberly Amato as the manipulating Raven, Kamilla Sofie Sadekova as the rebellious Angel, and Jessica Pallatte as the impressionable Jessie. Cameos by Susan Adriensen, Sophia Eptamenitis, Carrie Engdahl and Melanie Canter.
Check out http://www.undertheravenswing.com for post-production updates, and screening/festival information, cast interviews and more! And if you dare to join "The Order," add the Under the Raven's Wing MySpace Page to your profile!
More to be revealed...
****************
BRIAN JUDE INTERVIEWED BY COLONEL'S CRYPT
Updated 6/01/07
Colonel Scott W. Perry has recently interviewed Brian Jude for his web site, Colonel's Crypt. Read the interview here, or read it in our News Section!
****************
"THE POD" REVIEWED IN SHOCK CINEMA MAGAZINE
Updated 3/02/07
Jeremiah Kipp's "The Pod" received an excellent notice in the latest issue of print magazine Shock Cinema (#32, with Ronny Cox of "Total Recall" and "Deliverance" and Tim Thomerson from "Near Dark" on the cover). "The Pod" is a short film produced under Kipp Miller Productions by Brian Jude and James Felix McKenney, and written by Carl Kelsch.
Here's what critic Steve Puchalski had to say:
THE POD (2006). The latest short film from director Jeremiah Kipp quickly thrusts the viewer into territory worthy of early Cronenberg, by using an unpredictable new underground drug as a crowbar into a dysfunctional relationship. "The Pod" is recommended only for couples with a deep connection, and Jonas (Emanuele Ancorini) is desperate to snag a hit of this stuff. You see, he's a tattooed urban deadbeat, his girlfriend Caroline (Mary Remington) is on the verge of a suburbia-bound break-up, and he's betting that this drug will keep them together. Gosh, that's a brilliant idea! After Jonas pressures Caroline into taking half of The Pod (alone!), let the hallucinations begin! Soon she's wandering the city streets, searching for her MIA lesser-half, tripped out of her pretty l'il mind, and watching passersby mutating. Obviously she's in way over her head. When she finally locates dumb-ass Jonas, it's not going to be pretty. The film boasts outstanding production values and some wonderfully altered moments, but writer Carl Kelsch's potentially fascinating concept has little time to develop in only 20 minutes. With all of this unsettling ambiance, we're primed to expect the worst, so its pay-off is a bit of an emotional letdown. Nevertheless, this is a beautifully constructed short fueled by addictive co-dependency, and exceptional performances, including Larry Fessenden as deliciously creepy "pod" dealer Telly, who warns Jonas of the potential consequences, even as he seduces him into a dose.
In October, 2006, filmthreat.com gave "The Pod" a four-star review. Check it out here:
http://filmthreat.com/index.php?section=reviews&Id=9359.
****************
BRIAN JUDE INTERVIEWED BY DENISE KAMINSKY
Updated 1/27/07
Journalist Denise Kaminsky has recently interviewed Dragon Rider Productions' Brian Jude for an article for the Student Operated Press. You can read it here. A slightly longer version is now up on Denise's personal site, and in our News section.