THE POD - SHORT FILM IN POST PRODUCTION
Updated 11/03/05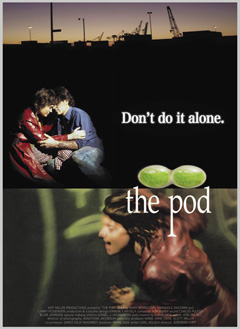 Producer Brian Jude has just wrapped production of Jeremiah Kipp's short film, The Pod, under Kipp Miller Productions, from a screenplay written by Carl Kelsch.
Straight-laced Caroline (Mary Remington) is moving to another state pursuing her chosen career path. Her artist boyfriend Jonas (Emanuele Ancorini) is willing to uproot himself only if she's willing to take an equal risk for him: ingesting a strange, mind-altering drug called The Pod, meant to be taken by couples only and revealing whether there is true connection.
When Caroline refuses, Jonas takes the drug alone and leaves instructions for her to find him...only if she's ingested The Pod, too. When she does, Caroline sets off on a strange, reality-bending night of horror where she's forced to confront her deepest hopes and fears.
Co-starring Larry Fessenden as Telly.
VIEW THE TEASER TRAILER HERE.