FESTIVAL DEBUT OF 'THE POD' - OCT.21
Updated 10/08/06
COMING TO THE 2006 NEW YORK CITY HORROR FILM FESTIVAL:
A short film directed by Jeremiah Kipp.
Produced by Brian Jude and James Felix McKenney, under Kipp Miller Productions.
Written by Carl Kelsch.
There's a drug for sale

It promises to deepen the connection
of couples who dare to try it.

But whatever you do...

Don't do it alone.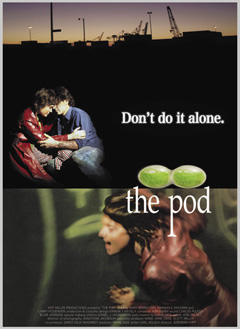 Straight-laced Caroline (Mary Remington) is moving to another state pursuing her chosen career path. Her artist boyfriend Jonas (Emanuele Ancorini) is willing to uproot himself only if shes willing to take an equal risk for him: ingesting a strange, mind-altering drug called The Pod, meant to be taken by couples only and revealing whether there is true connection.
When Caroline refuses, Jonas takes the drug alone and leaves instructions for her to find him... only if shes ingested The Pod too. When she does, Caroline sets off on a strange, reality-bending night of horror where shes forced to confront her deepest hopes and fears.
Co-starring Larry Fessenden as Telly.
VIEW THE TEASER TRAILER:
We're pleased to announce that The Pod will have its festival debut in the New York City Horror Festival on Saturday, Oct. 21 at 12 noon, at Tribeca Cinemas, 54 Varick Street (corner of Canal). This is a well-respected 6-year-old festival for fans of horror, thrillers, sci-fi, and films that push the boundaries of these genres.
The Pod will be included in a program that includes 2 other shorts and a new feature film with a Q&A to follow:
Mother; 12min.
Years after chemical warfare drove humanity underground, one woman named Mother must choose to obey her government or face termination.

The Tell Tale Heart; 10min.
Presumably an adaptation of Edgar Allen Poe's famous short story

Fingerprints; 1hr.30min
Based on a widely publiced urban legend that took place 50 years ago in a small Texas town, where a school bus filled with children are supposedly haunt the area where the accident took place.
Tickets are $15 and can be purchased in advance - shows do tend to sell out.
Screenwriter Carl Kelsch will be present to represent the film, as director Jeremiah Kipp is overseas. There is also an opening night party for the fest on Oct. 18th at 6:30.
Go to www.nychorrorfest.com for more info.