"THE BLOOD SHED" DVD RELEASE DATE - SEPT. 25, 2007!
Updated 5/18/07
Fangoria.com has just announced the release of "The Blood Shed" on DVD! Read the article here, or read it below!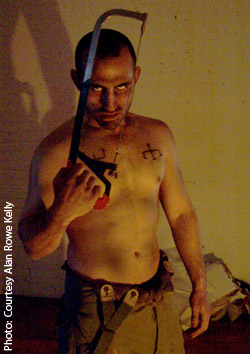 May 18: New website, DVD deal for THE BLOOD SHED
Indie filmmaker Alan Rowe (I'LL BURY YOU TOMORROW) Kelly gave Fango the word that a new official website has been launched here for his over-the-top horror feature THE BLOOD SHED, and revealed that it has been picked up for DVD distribution by Heretic Films, which also released TOMORROW and plans a September 25 debut. "THE BLOOD SHED is true independent horror, with some of the best names and talent the East Coast community has to offer," says Kelly, who last discussed the movie with us here. In addition to writing and directing, he also stars as one of a family of demented hillbillies who torture a series of victims, along with Terry M. West (director of FLESH FOR THE BEAST), AUNT ROSE's Joshua Nelson (pictured), Mike (THE TENEMENT) Lane, Susan (Mingle Mangle) Adriensen and Robert Norman.
"The site will be updated weekly with listings of screenings, articles and interviews involving everything connected with the movie," Kelly tells Fango. "It's fun and quite interactive, with links to all the best-known horror sites in the industry from the folks who have supported me and my films for some time now. Plus, all the names and photos of our cast and crew link to numerous pages and articles to give viewers all the information they want to know about everyone connected with THE BLOOD SHED."
As for the DVD, Kelly reveals, "It will have an audio commentary by myself, actor Jerry Murdock, cinematographer/filmmaker Bart Mastronardi and composer Tom Burns. Also included will be trailers and a documentary called Behind the Shed: The Making of THE BLOOD SHED, produced by Brian Jude and Craig Schiavone and containing interviews with all the cast and crewmembers, plus behind-the-scenes footage." Look for a feature story on Kelly and his BLOOD SHED cohorts, many of whom have their own directorial projects on the way, in Fango's pages later this year. —Michael Gingold